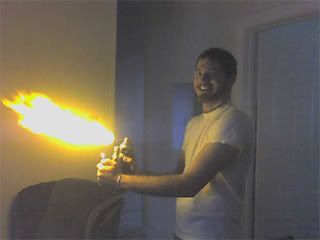 The day was an uneventful one. John and I hung out in his grandmother's apartment for a few hours. No music, crappy television channels, nothing to occupy our time with. But hey, we made the most of what we had. John showed off his homemade flamethrower, and that gave us a few ideas. Stupidly funny ideas for shows in the future. We have no lives.
* Remember kids, don't play with fire- especially indoors. We are practiced idiots.
Also, I put up an image on the right side of this page supporting the Purple Ribbon Campaign. Please spread the word and help stop the suffering of countless children across the world. Domestic violence has to stop.